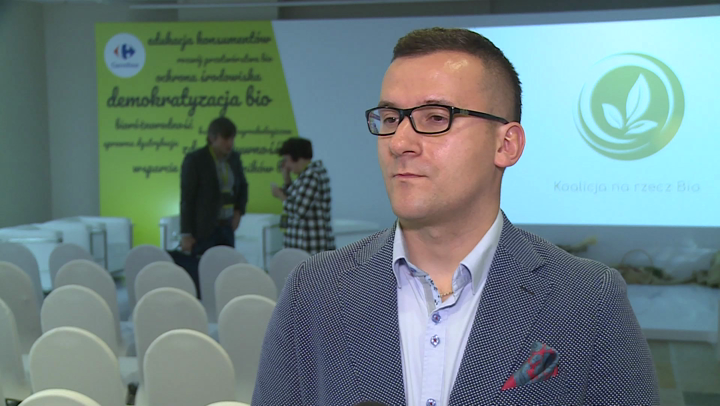 Po latach boomu liczba gospodarstw ekologicznych w Polsce zaczyna spadać. Wynika to m.in. z faktu, że część z nich nie zajmowała się produkcją z przeznaczeniem na rynek, a jedynie pobieraniem dopłat. Z drugiej strony wyspecjalizowane gospodarstwa, które realnie produkują i dostarczają ekożywność, umacniają swoją pozycję na szybko rosnącym rynku. Rolnikom potrzebne jest jednak wsparcie i szeroka edukacja konsumentów dotycząca zalet zdrowej żywności. Coraz większym problemem takich gospodarstw jest również brak pracowników, bo rolnictwo ekologiczne – w większym stopniu niż tradycyjne – wymaga pracy manualnej.
– Liczba gospodarstw ekologicznych w Polsce maleje, za to nie zmienia się liczba producentów, którzy realnie produkują i dostarczają na rynek. Można nawet powiedzieć, że stają się bardziej wykwalifikowani, produkują coraz więcej. Ubywa natomiast gospodarstw, które nic nie produkują, mają jakieś łąki czy uprawy – mówi agencji informacyjnej Newseria Biznes Łukasz Gębka z Farmy Świętokrzyskiej i Polskiej Izby Żywności Ekologicznej.
Według danych resortu rolnictwa, w latach 2003–2013 nastąpił w Polsce boom rolnictwa ekologicznego, a liczba takich gospodarstw zwiększyła się 11-krotnie (z 2,3 tys. do prawie 26,6 tys.). Obecnie natomiast ich liczba spada – w 2017 roku działalność w zakresie rolnictwa ekologicznego prowadziło już 21,4 tys. podmiotów, w tym prawie 20,3 tys. rolników ekologicznych gospodarujących na powierzchni 495 tys. ha. Największą powierzchnię ekologicznych użytków rolnych zajmowały rośliny na paszę. Na drugim miejscu znajdowały się łąki i pastwiska oraz zboża. Malejąca liczba gospodarstw ekologicznych wynika po części z faktu, że niektóre z nich nie zajmują się produkcją z przeznaczeniem na rynek, a jedynie pobierają dopłaty. Z drugiej strony, w 2017 roku znacząco wzrosła liczba podmiotów przygotowujących produkty ekologiczne – ich liczba sięgnęła 795 (z czego 664 zajmowały się wyłącznie przetwórstwem).
– Aby produkcji ekologicznej było więcej, potrzebne jest wsparcie na wielu płaszczyznach. Trzeba lepiej zorganizować wsparcie ze strony ośrodków doradztwa rolniczego. Na pewno potrzebne są też pieniądze, które będą promowały żywność ekologiczną. Powinniśmy zacząć od konsumentów, bo żeby produkować, trzeba mieć gdzie sprzedawać. Trzeba pokazywać konsumentowi, jak wygląda ta produkcja, organizować spotkania w gospodarstwach, pokazywać badania świadczące o tym, że produkt ekologiczny zawiera więcej witamin, jest pozbawiony pestycydów – wylicza Łukasz Gębka.
Rosnąca świadomość konsumentów już od kilku lat znajduje odbicie w wynikach rynku. Badania pokazują, że produkty eko cieszą się w Polsce lawinowo rosnącą popularnością. Z branżowych prognoz, przytaczanych przez portalspozywczy.pl, wynika, że udział żywności ekologicznej w polskim rynku spożywczym kształtuje się na poziomie około 0,3 proc., ale do 2030 roku rynek ekożywności ma się rozwijać w tempie 20 proc. rocznie. Sprzyja temu m.in. wzrost zamożności Polaków. Z przeprowadzonego w 2017 roku badania IMAS ("Żywność ekologiczna w Polsce") wynika, że 24 proc. Polaków kupuje certyfikowane produkty ekologiczne co najmniej raz w tygodniu. Z drugiej strony konsumenci wciąż mają niewielką wiedzę m.in. na temat procesu produkcji oraz certyfikacji produktów eko i często mylnie używają zamiennie pojęć "zdrowa żywność" i "żywność ekologiczna".
– Konsumentom często wydaje się, że w produkcji ekologicznej się nic nie robi, bo wszystko samo rośnie. Dlatego takie produkty powinny być tańsze, bo przecież nie pryskamy, nie siejemy nawozu, etc. Tak niestety nie jest. Stosujemy nawozy specjalistyczne, naturalne, wszystko, co nie było poddane syntezie chemicznej i pochodzi ze środowiska naturalnego. To oznacza wyższe koszty – mówi Łukasz Gębka.
Jak podkreśla, dodatkową barierą jest fakt, że przestawienie gospodarstwa rolnego na produkcję ekologiczną to długi proces, który zajmuje około trzech lat. W tym czasie trzeba ponosić dodatkowe, wysokie koszty i spełnić rygorystyczne normy, żeby uzyskać ekocertyfikat.
– Dopiero w trzecim roku uzyskujemy certyfikat i możemy sprzedawać produkty ekologiczne. Przez cały ten czas trzeba pracować nad glebą, poprawiać zawartość próchnicy w glebie, stosować nawozy zielone, czyli po zbiorach trzeba zasiewać rośliny, które budują próchnicę, dodawać nawozy pochodzenia naturalnego, które są droższe. Trzeba się z tą glebą sporo napracować, żeby ona żyła, dodawać mikroorganizmy glebowe – to wszystko ma ogromne znaczenie, aby można było osiągnąć plon wysokiej jakości – podkreśla Łukasz Gębka.
Trudnością jest też uzyskanie opłacalności przy niewielkiej skali produkcji gospodarstwa. Ekspert PIŻE podkreśla również, że w tej chwili jednym z największych problemów dla takich gospodarstw – jak i rolnictwa ogółem – jest pozyskanie pracowników.
– Produkcja ekologiczna jest trudna, to jest pewnego rodzaju styl życia. Aby produkować na pewnym poziomie, potrzebujemy sporą liczbę pracowników. U nas w pełni sezonu pracuje 140 osób, ale dla niektórych gospodarstw problemem jest zorganizowanie choćby kilku osób do pracy. Nie uciekniemy od tego, bo produkcja ekologiczna wymaga pracy ręcznej. Stosujemy agrotechnikę, która eliminuje część zachwaszczenia, ale ostatecznie musimy plewić ręcznie, a to generuje koszty – mówi ekspert Polskiej Izby Żywności Ekologicznej.
Source: Lifestyle