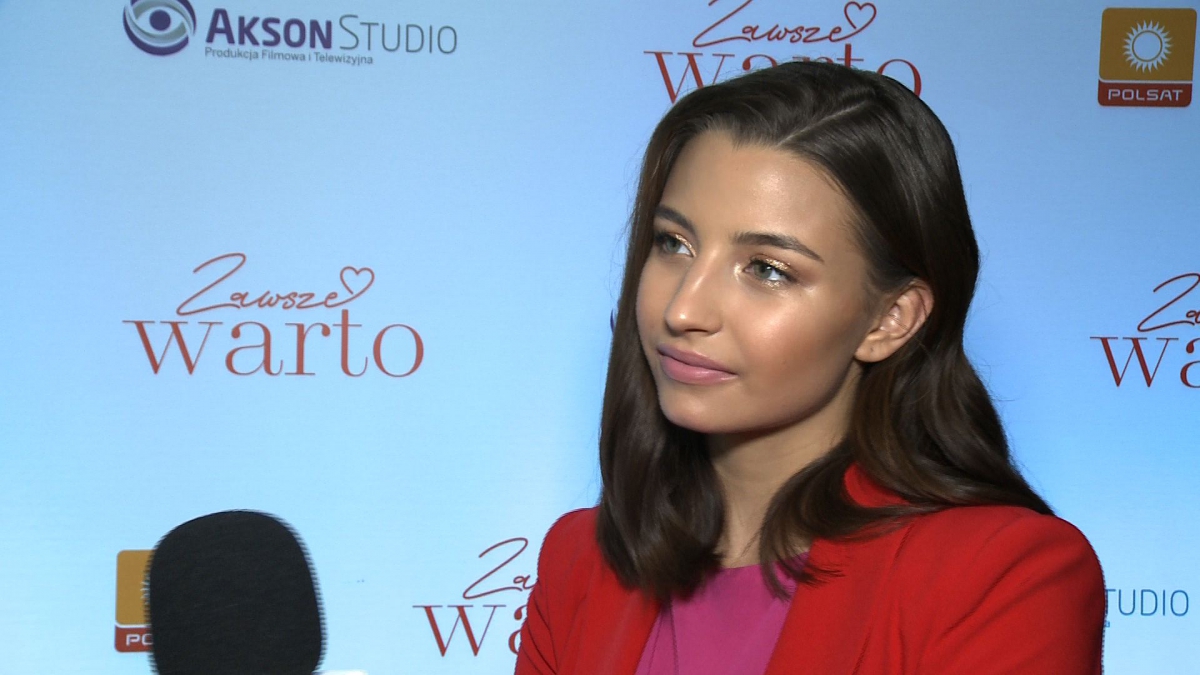 Chcę przekonać kobiety, żeby walczyły o swoje marzenia – mówi aktorka. Jej zdaniem kobietom nie brakuje siły, bardzo często są w stanie unieść większy ciężar emocjonalny niż mężczyźni. Zapominają jednak o potrzebie wzajemnego wspierania się w duchu kobiecej solidarności.
Julia Wieniawa jest jedną z gwiazd serialu "Zawsze warto", który wiosną zadebiutuje na antenie telewizji Polsat. Opowiada on o trzech kobietach postawionych przez los w dramatycznej sytuacji. Aktorka wciela się w postać młodej matki, porzuconej przez męża i obarczonej jego długami. Partnerująca jej Katarzyna Zielińska gra gospodynię domową próbującą uwolnić się spod władzy męża, Weronika Rosati kreuje natomiast postać zamożnej prawniczki, która w życiu osobistym radzi sobie znacznie gorzej niż na sali sądowej. Zdaniem Julii Wieniawy serial ma zachęcać Polki do walczenia o własne szczęście i prawo do realizowania marzeń.
– Tytuł mówi sam za siebie, że zawsze warto wierzyć w siebie. My, kobiety, jesteśmy bardzo silne i potrafimy znieść naprawdę wiele, nawet więcej niż mężczyźni. Jesteśmy silniejsze w pewnych sytuacjach – mówi gwiazda.
Zdaniem aktorki nie jest to jednak jedyny przekaz jej najnowszej produkcji. W dalszych odcinkach pojawi się bowiem wątek kobiecej przyjaźni, pokazujący jak ważne jest wzajemne wsparcie i solidarność kobiet. Gwiazda jest przekonana, że działając wspólnie, kobiety mają dużą siłę, dlatego lojalność wobec przedstawicielek tej samej płci powinna być oczywistością.
– Ja na przykład wspieram, też w swoich przyjaciółkach czuję takie wsparcie, nie ma w nich zawiści, ale często widzę, że kobiety jeszcze nie mają tego, trzeba im o tym powiedzieć, żeby właśnie się wspierały nawzajem i tworzyły silną grupę – mówi Julia Wieniawa.
Aktorka podkreśla, że kobieca solidarność nie powinna być rozumiana jako niechęć do mężczyzn i dążenie do ich dyskredytacji. W serialu "Zawsze warto" obecne są bardzo ciekawe postacie męskie, które przełamują tabu społeczne.
– To nie jest tak, że nagle feminizm i generalnie faceci są beznadziejni. Jest to serial dla wszystkich, to nie jest feministyczny serial, kompletnie nie. Moim zdaniem faceci też są bardzo potrzebni, tylko nie do wszystkiego się nadają – mówi Julia Wieniawa.
Source: Lifestyle