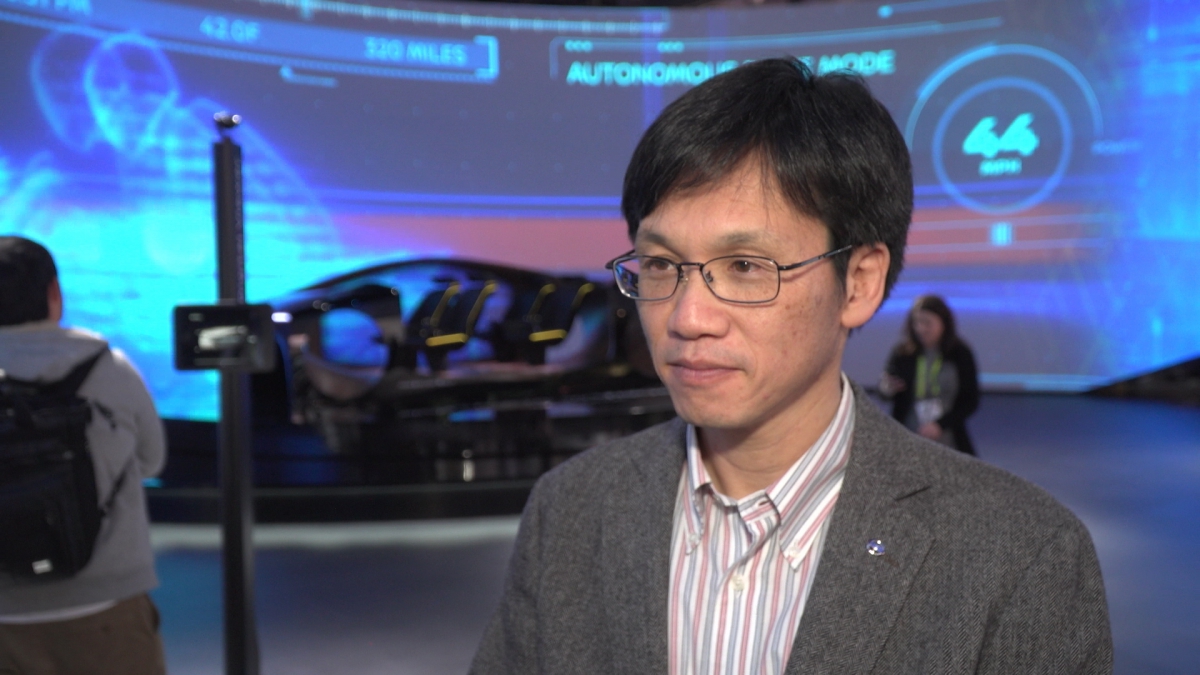 Technologia Invisible-to-Visible, która w trakcie jazdy łączy informacje z czujników na zewnątrz i wewnątrz pojazdu z danymi z chmury – to innowacja, którą na tegorocznych targach CES 2019 w Las Vegas prezentuje Nissan. Japoński koncern stworzył rozwiązanie, które podczas jazdy w deszczu wyświetli w samochodzie słoneczną scenerię albo pozwoli kierowcy połączyć się z dowolną osobą, która pojawi się w samochodzie jako trójwymiarowy awatar. Oprócz frajdy, technologia I2V ma zapewnić maksymalne bezpieczeństwo i pewność jazdy.
Na targach elektroniki użytkowej w Las Vegas nie brakuje marek motoryzacyjnych, których oferta pokazuje, w jakiem kierunku będzie rozwijać się ta branża. Nissan prezentuje na CES 2019 technologię Invisible-to-Visible (I2V), która w trakcie jazdy łączy informacje z czujników na zewnątrz i wewnątrz pojazdu z danymi z chmury. To stwarza praktycznie nieograniczone możliwości. Przykładowo, pozwala śledzić najbliższe otoczenie pojazdu, a nawet przewidywać co może się zdarzyć, np. pokazując, co jest za rogiem budynku, do którego zbliża się samochód.
– Zmierzając ku erze jazdy autonomicznej, stawiamy sobie dwa cele. Pierwszym jest zwiększenie poczucia pewności kierowców, a drugim uczynienie samej jazdy bardziej ekscytującą. I2V jest technologią, która umożliwia realizację obu tych celów – mówi agencji informacyjnej Newseria Biznes dr Tetsuro Ueda, szef ekspertów w Centrum Badawczym Nissan Motor Company. – Przykładowo, dzięki niej użytkownik może połączyć się cyfrowo z dowolnym innym kierowcą, niezależnie od jego lokalizacji, za pośrednictwem metawersum, dzięki czemu można dzielić doświadczenie jazdy z wybranymi osobami.
W praktyce działa to w ten sposób, że kierowca może połączyć się w wirtualnym świecie Metaverse z dowolną osobą – znajomym lub członkiem rodziny, który pojawi się w samochodzie jako trójwymiarowy awatar, żeby udzielić pomocy albo zapewnić towarzystwo w trakcie długiej trasy.
Technologia I2V łączy świat rzeczywisty i wirtualny. Goście na CES 2019 mogą założyć parę okularów z rozszerzoną rzeczywistością i wejść do demonstracyjnego kokpitu Nissana, wyposażonego w trójwymiarowe interfejsy i wyświetlacze, żeby przekonać się o jej możliwościach. I2V pomoże m.in. w znalezieniu miejsca parkingowego w ruchliwym centrum handlowym albo wyszuka w lokalnym przewodniku i poda kierowcy informacje o miejscu, które ten odwiedza po raz pierwszy. Technologia ma zapewnić nie tylko większe bezpieczeństwo i pewność jazdy, ale i dostarczyć niezapomnianych wrażeń. Dlatego w trakcie jazdy w deszczu można na przykład wyświetlić w środku samochodu scenerię słonecznego dnia.
– Przyszłość należy do jazdy autonomicznej. Korzystając z technologii Omni-Sensing, zbieramy dane z każdego samochodu znajdującego się na drodze i przesyłamy je do chmury. Dzięki symulacjom możemy przewidzieć, co stanie się w najbliższej przyszłości. Możemy także zwiększyć poczucie pewności kierowców dzięki dostępowi na bieżąco do danych sztucznej inteligencji pojazdu i ich wizualizacji – mówi dr Tetsuro Ueda.
I2V jest zasilany przez inną technologię opracowaną przez Nissana – Omni-Sensing, która pełni rolę centrum danych gromadzących w czasie rzeczywistym informacje o ruchu drogowym, otoczeniu samochodu i jego wnętrza. Technologia mapuje 360-stopniową wirtualną przestrzeń wokół samochodu, aby dostarczyć informacji m.in. na temat stanu drogi, widoczności, oznakowania lub znajdujących się w pobliżu pieszych. Może również monitorować ludzi w samochodzie za pomocą czujników wewnętrznych, aby lepiej przewidzieć, kiedy mogą potrzebować pomocy albo gdy powinni zrobić przerwę w jeździe.
– Korzystamy z technologii rzeczywistości mieszanej, nakładając to, co niewidoczne na rzeczywisty obraz – mówi dr Tetsuro Ueda.
Jak ocenia, technologia I2V może powszechnie zagościć na rynku za około dziesięć lat. Jednak Invisible-to-Visible to nie jedyna nowość, którą japoński koncern przywiózł do Las Vegas. Na tegorocznych targach można zobaczyć także elektrycznego crossovera IMx KURO, Nissana LEAF e+ o zwiększonej mocy i zasięgu oraz debiutującego w USA wyścigowego, elektrycznego Nissana LEAF NISMO RC z napędem na wszystkie koła.
CES (Consumer Electronics Show) to prestiżowe, największe na świecie targi elektroniki użytkowej, podczas których prezentowane są najnowsze produkty, technologie i prototypy, które dopiero trafią na rynek. Tegoroczne targi odbywają się w Las Vegas w dniach 8–11 stycznia. Na blisko 25 tys. mkw. prezentuje się kilka tysięcy marek, globalnych koncernów i start-upów, które do Las Vegas przywiozły to, co mają w ofercie najlepszego.
Source: Biznes